CTU Central Library offers Open Access publishing in the CTU Digital Library (CTU DL).
The service provides publishing of textbooks, teaching materials, Open Access conference proceedings, etc. Your publication :
will be easily accessible,
will meet all current publication standards,
will be easy to find by common search tools and search engines.
Apart from saving your publication in CTU Digital Library, it will be registered in CTU Central Library catalogue and indexed by universal search engines (Google, Google Scholar) and by search engines or registers of Open Access literature (CORE, BASE, Unpaywall). Publication willl be automatically registered in V3S (in the mode "not to be submitted to RIV database").
At the beginning it is necessary to decide if you wish to publish:
commercially (printed and electronical version) – arranged by CTU Publishing House
or electronically Open Access – provided by the CTU Central Library
Information for authors:
Basic information
Different kinds of publications may be published in CTU Digital Library, for example Open Access books, textbooks, teaching materials, conference proceedings, etc..
Files can be published in arbitrary format, ideally in archival format PDF/A. It is possible to upload more than one file with Digital Library administrator approval.
Publishing itself is conducted in cooperation with the Digital Library administrator.
Publications are submitted via V3S. V3S publication record and the submission of full text is mediated by CTU Central Library with Author's approval, so that all information necessary for CTU Digital Library publishing is obtained. Submission via V3S ensures connection of the record in V3S with the one in Digital Library, it ensures all necessary metadata for both databases. At the same time a new article record in the mode "not to be sumbitted to RIV database" is created in V3S for the Author. Afterwards the record in V3S may be adjusted arbitrarily by the Author.
Who is the Publisher?
According to the principles of ISBN identifier allocation at CTU disposal the Publisher is CTU.
In the publication CTU will be assigned a role of Publisher (CTU primarily, then faculty, department or other work unit may be added).
In case there is a reason CTU must not be assigned a role of the Publisher, CTU becomes the copyright owner.
The copyright and licence terms
Who is the owner of the copyright and who owns the licence? Who is the person to deal with about the licence terms?
The copyright owner is the Author or Co-authors.
In case of CTU employees' works the owner is CTU or faculty, an Institution official, or a work unit unless said otherwise.
In case CTU is the Publisher and copyright owner at the same time then CTU is stated only once as Publisher.
Copyright owner may also be specified by terms of the project.
It is to be considered, whether to state copyright for different parts of the text (graphic design, illustrations, pictures, etc.).
For Open Access publishing we use Creative Commons public licences with features according to Author's or project needs:
Preferred alternative: BY-SA-NC (non-commercial feature, which eliminates different minor commercial aggregators, which gather texts available without our awareness and afterwards offer them at paid platform.).
The copyright owner decides, which type of the CC licence will be used.
CC licence is usually stated as a picture with hypertext link for licence terms and with appendant text available in the CC licence generator:
For example: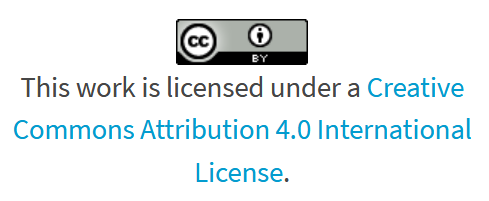 Chosen licence refers to the whole work including potential graphic elements.
If other author's works released elsewhere are used in the text, for example its pictures and charts, apart from proper citing it is absolutely necessary to follow the licence terms. In case the parts have been published under the CC licence, the terms of the licence must be met. In case they are subject to conditions of the agreement with the CC licence publisher, it is necessary to obtain the publisher's approval for CTU publishing to use given parts and afterwards use them under the CC licence.
For CTU Digital Library the following declaration is required:
In case of Co-authors a declaration that all authors agree with work publishing in the CTU Digital Library in Open Access mode is required.
Identifiers
is inserted by Author (in case of Author's will)
it has the ORCID icon and full identifier in the form of hypertext link to Author's profile as follows:
ISBN (online)
allocated by CTU Publishing House (free of charge)
electronic publication is allocated eISBN version
allocated by CTU Central Library, costs covered by CTU Central Library
DOI for the publication which has been assigned ISBN identifier is stated as follows: 10.14311/BK.[ISBN]. ISBN is displayed without hyphens.
DOI is stated in form of active hyperlink as follows: https://doi.org/[DOI], and [DOI] it is the full DOI identifier assigned to the publication. For example: https://doi.org/10.14311/BK.9788001066751
Graphic design, editorial works, graphic elements and peer-review procedure
Graphic design of the document and its proofreading is to be arranged by Author, CTU Central LIbrary does not provide help with this issue.
Peer-review is arranged by Author and according to Author's needs and demands.
Information about the book peer-review is stated by Author in the publication in the extent at Author's discretion and/or according to the funder's conditions.
Information about the publication
The information page of the publication states the following information:
Title or potential subtitle or subtitles
Authors
ORCID (optional)
Other contributors, if relevant (photography, illustrations, graphic designs, proofreading, etc.)
Reviewers
Publishers (CTU, faculty, work unit)
Year issue
Project title and number of the project (respectful to the needs and conditions of the project)
ISBN
DOI
Licence
Other information required for creating the entry in CTU Digital Library
To create a complete entry in the Digital Library, it is necessary to complete:
key words in English and in the language of the publication (if different from English)
annotation in English and in the language of the publication (if different from English)
title and numbers of the projects, which the publication has been supported by (if not mentioned elsewhere in the document)
Publishing instructions and application for publishing in the CTU Digital Library
If you are interested in publishing in CTU Digital Library, please, fill in the form (see below) and attach preliminary version of your publication.
In case of your questions, please, contact the CTU Digital Library manager: This email address is being protected from spambots. You need JavaScript enabled to view it. (Tel. No.: 22435-8451).
Publishing instructions
Address CTU Central Library with your application for publishing in the Digital Library.

ideally by filling the form below and by attaching preliminary version of your work of the publication.
CTU Central Library peers will discuss the information given in your publication and will recommend the following steps.
Address CTU Publishing House with your publication to be assigned ISBN identifier in accordance with Publishing House terms (eISBN version).
Address CTU Central Library with your publication to be assigned DOI identifier.
Fill in ISBN and DOI identifiers and possibly more information into your publication.
Send the final file to the CTU Digital Library manager.
CTU Central Library will submit your publication into the CTU Digital Library via V3S. In V3S the publication will be inserted in the mode "not to be submitted to RIV database".
Application form for publishing in the CTU Digital Library